Twin Geckos designs, builds, and configures highly flexible Asterisk based telephone systems which permit companies to lower recurring telephone infrastructure overhead without adversely affecting your business. Asterisk is a mature, Open Source, enterprise grade telephony software technology that is the core of our telephone systems. Using Asterisk, our systems can merge a variety of telephone technologies seamlessly to allow your business to adapt to your call volume without adding new phone lines. A common method to give companies extreme flexibility is to use VOIP to allow your company to scale up or down as your call demands change. Voice Over IP (VOIP) is simply having telephone service that uses the Internet instead of a dedicated phone line. Unlike a dedicated phone line, a VOIP telephone service can provide as many inbound and outbound telephone calls as your Internet bandwidth can allow. VOIP telephony service also allows companies to have inexpensive local telephone numbers in any area they want to do business (or an 800 number) and our phone system's VOIP capability allows employees, contractors, and others around the world to have extensions and phones (including their cell phone) to work as if they were in the same office. The ability to mix different telephone technologies in the same system seamlessly provides complete control over your telephone infrastructure and the related costs.
Our systems can combine multiple line E1/T1 connections, individual phone lines, and VOIP service seamlessly into one system without the per port, voicemail, user, and device CPU license fees other phone systems often charge. As your company expands, we can add more telephony hardware to meet your demands, integrate VOIP service to handle increased demands, and upgrade server hardware when you've outgrown the server itself. The result is that your company has lower monthly telephone costs because you do not have to scale your telephone line infrastructure to meet your peak demand and only pay more when you are using it. Mixing regular telephone lines and VOIP can help companies have both guaranteed telephone connectivity and also have the ability to scale up when they need to during peak business cycles. 
The systems can scale as large as you can imagine and have the advanced features you want without a high cost per phone/port/etc except for the telephony hardware selected which is a one time cost. The systems can do almost as much anything you can imagine and allow integration of  physical Voice over IP (VOIP) phones, cell phone numbers, soft phones, etc into the system to allow you to have employee and contractor extensions with or without voicemail for anyone you need without additional costs. Our flexible phone systems include all the expected features found in very expensive phone systems like music on hold, ring groups, voice mail, voice menus, and a variety of extension types, which are implemented to fit your business needs and can change when needed. Companies choose Asterisk based telephone systems for many reasons!
Why Do 1 Million Phone Systems Run Asterisk?
Simple, flexible, affordable and OPEN communications.
Whether you need a flexible office phone system or a custom telephony solution, this is perfect for your business!
​
​
LeftParagraph

Designed your way
Custom communications solutions fit any business process or location
RightParagraph
 
Proven ROI
Use any phone providers for any of your calling needs
LeftParagraph

Unlimited customization
Open Source-based so you can freely integrate anywhere
RightParagraph

Proven reliability, availability
Rock-steady and scalable for SMB or Enterprise (fail-over too!)
LeftParagraph

Every feature is available
Every telephone feature is included, at no extra cost
RightParagraph

Completely standards-based
Standards-based design ensures compatibility w/ any device
What Can Asterisk Unified Communications Do?

Asterisk is 
a complete Unified Communications system
 that can perform any advanced communications function, 
without the monthly fees
 to go along. Forget the phone company — your business now has the power to 
eliminate the phone company
.
LeftParagraph
Speech Applications
Multilingual Text-to-Speech and Speech Recognition available
RightParagraph
IVR / Auto Attendant & ACD
Unlimited usage & intelligence baked right into every system
LeftParagraph
Voicemail
Unlimited voicemail boxes, for every function required
RightParagraph
Call Conferencing
Stop paying high usage fees & host your own teleconference
LeftParagraph
Unified Messaging & Communication
At work, home or on the road, stay seamlessly connected
RightParagraph
Call Recording, Whisper, Barge
Powerful Call Center features included, at no extra charge
LeftParagraph
Call Reporting
Advanced CDR reports in real-time on sales campaigns, customer service, etc.
RightParagraph
IP PBX
Voice over IP TCO reduction, works simultaneously with PSTN reliability (SIP, T1/E1, Analog)
LeftParagraph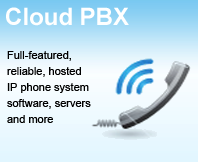 ​
RightParagraph
Same Features Without a Server!
Full featured cloud hosted IP-PBX services leveraging best-of-breed Linux virtualization and IP-PBX switching technologies. A welcomed alternative to typical hosted PBX offerings, CloudPBX is based on the powerful Asterisk IP-PBX switching software, and has four years of successful deployment and service in the marketplace processing hundreds of millions of phone calls. The CloudPBX feature-set combined with its low cost of ownership makes for a superior business telecom solution compared to traditional premise-based PBX systems using older TDM technology.
Sometimes Better than Hosted PBX System
Typical hosted PBX solutions in the market today are based on a large, centralized monolithic PBX platform. These are usually custom-built in-house and very expensive to maintain. More importantly, they are nearly impossible to customize and tailor specic features to individual customers, as the entire platform needs to be updated just to add a small feature or customization for one particular client.  

CloudPBX takes a unique approach to using individual virtual Linux containers as apposed to the large centralized monolithic PBX platform, allowing for high levels of system customization and personalization to quickly meet the needs of your business.  Using existing best-in-class open source technologies for the Linux Operating system, virtualization platform and the IP-PBX itself, we are able to keep the costs to maintain the PBX platform very low, ultimately passing these cost savings on to your business. 
​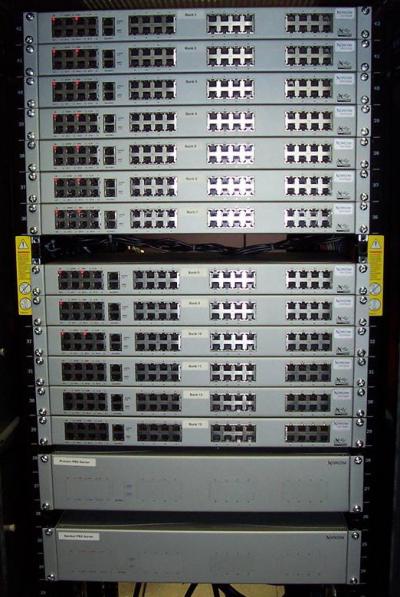 ​
In The Cloud
Not For all Businesses
Hosted private branch exchange (PBX) systems can be attractive for companies looking to cut back on voice communications costs. However, hosted PBX systems are not a good fit for everyone.  The upper limit to the number of PBX extensions that can be supported is around 1,000, which may or may not be appropriate for a large installation. However, this can be addressed for large sites by configuring multiple hosted systems to support individual departments and single employees.  Having multiple systems to support this load however may make cloud hosted PBX systems less cost effective.
Another concern is whether your Internet provider has sufficient network bandwidth and that the virtual machine has sufficient system horsepower to support your business load. The value of hosted PBX systems can be significant in a disaster, but only if they are planned carefully and used in the proper context.  A cloud based PBX should only be considered if your business has a rock solid internet connection.
LeftImage

RightParagraph
On Premise PBX Systems

Xorcom telephony systems harnesses the power of Linux and the Asterisk® open-source platform to design and produce leading-edge modular and scalable hardware telephony solutions for commercial installations of all sizes. Easy to install and maintain, Xorcom solutions are also cost effective since there are no per user license fees.
ENTERPRISE-GRADE VOIP PHONE SYSTEMS 
PROVIDE FLEXIBILITY, MODULARITY, AND NO PER USER LICENSE FEES.
With Xorcom's CompletePBX you can:
Reduce upgrade costs by using existing IP telephones or SIP (Session Initiation Protocol) clients.

Easily integrate third party products via the open application programmable interface.

Avoid getting stuck with an outdated system; as part of the service package, Xorcom offers support, maintenance, and upgrades.
Xorcom's CompletePBX includes the following standard features:
Simple Management: desktop call management; visual voicemail; browser-based administration

Efficient Communications: smart phone integration; unified messaging; presence management; conference bridges; video calling; outbound fax (CXE and CTS series)

Inbound Call Center/Customer Service Aids: call recording; graphical call reporting; integrated chat; unlimited auto attendants…and much more!
Twin Geckos can help you design, install, and implement your new phone system whether your company needs a simple 2 line phone system or a sofisticated system with hundreds of lines!